Price

RM1,128.00

Brand
Samsung
Availability
Out Of Stock
Description
Highlight
Digital Inverter Technology (DIT): Long lasting performance, uses less energy and minimizes noise
Moist Fresh Zone: A drawer compartment that keeps fruits and vegetables fresher and longer
Deodorizer Filter: Built-in natural fiber Deodorizing Filter, eliminates strong smell
1 Year General Compressor & 10 Years on Compressor Warranty by Samsung Malaysia
Price & Stock is subject to change without prior notice.
Ice Maker
MoistFresh Zone
Digital Inverter Technology
203 ℓ
Net Total (Liter)
Digital Inverter Compressor and 10 Year Warranty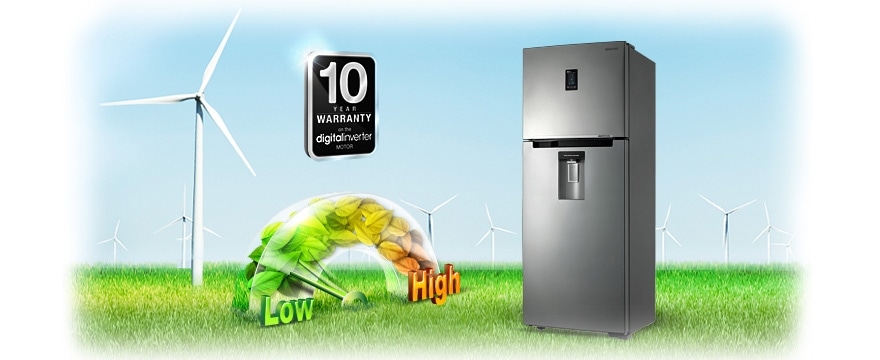 Unlike conventional compressors, which have just two patterns of start and stop, Samsung's Digital Inverter Compressor makes 5 different moving cycle based on humidity levels and usage patterns. This helps maintain a more consistent temperature, reduces wear and tear on the compressor for greater durability, and keeps noise to a minimum. You'll also enjoy the peace of mind that comes with lower electric bills and a 10-year warranty.
Big Guard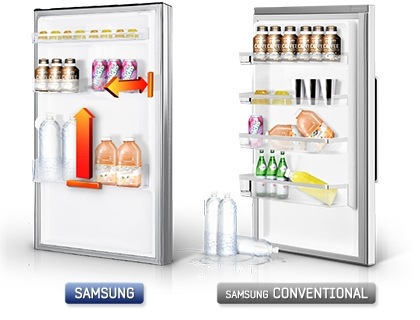 Convenient for the thirsty household, the Big Guard is deeper than shelves found in conventional refrigerators. Now you can store big containers of milk and juice in the door, along with two rows of beverage cans and bottles. Throwing a party? Use the Big Guard to chill tall bottles of water, soda, and other liquid refreshments.
MoistFresh Zone
Fresh vegetables and fruit are good for you, but what's good for vegetables and fruit? Samsung's MoistFresh Zone. The smartly designed drawer provides an ideal environment for apples and zucchini alike, so they stay fresher longer. A tight seal prevents moisture from escaping when humidity levels are low, and a vent releases excess moisture when humidity levels are too high. Together with the conduction cooling system, these elements maintain the optimal humidity levels to preserve your produce.

Deodorizing Filter
Deodorizing Filter is made of Activated Carbon, eliminates bad smell, keeping the air fresh and food flavor longer.
Big Box
Full Open Box makes it easier to organize and remove items—even bulky foods, like a 3-gallon tub of ice cream. The box extends out all the way for optimum use of space and, thanks to the drawer's design, you can open the Full Open Box even if the refrigerator door is only open 90 degrees.
What's in the box
Capacity

Net Total (Liter)203 ℓ
Net for Freezer (Liter)53 ℓ
Net for Refrigerator(Liter)150 ℓ

Physical specification

Net Dimension (WxHxD)(mm)555 x 1,445 x 637 mm
Net Case Height with Hinge (mm)1445 mm
Net Depth with Door Handle (mm)637 mm
Net Depth without Door (mm)545 mm
Packing Dimension (WxHxD)(mm)572 x 1,500 x 664 mm
Net Weight (kg)44.5 kg
Packing Weight (kg)48 kg
20/40/40H (Container)46/40/119

Cooling Feature

No FrostYes
Cooling TypeAllround Cooling(Mono)

Refrigerator Feature

Deodorizer TypeDeodorizer Filter
Number of Shelf (Total)2 EA
Shelf MaterialTempered Glass
Number of Vegetable & Fruit Drawer1 EA
Number of Door Pocket3 EA
Egg Container (Egg Tray)Yes
Fresh roomYes
Interior LED LightYes
Big GuardsYes

Freezer Feature

IcemakerTwist
Shelf MaterialPlastic
Number of Shelf (Total)1 EA
Number of Door Pocket2 EA

General Feature
Exterior Feature

Door HandleRecessed
ColourMetal Graphite

Energy
Product Warranty Excludes the Following : Gas refill for 1 year (Gas refill for 2 years : only applicable on purchase from SDC & SBS) Plastic/glass attachments, bowels, hose, attachments such as feed valve joint, glass panel, evaporator pan, ice tray, shelves, filters valves, strainers, piping, etc. In-box accessories such as filters, flexible hose, all suction nozzle, extension pipes, etc and external parts such as casting control knobs/buttons, cables.
Scope of Warranty for Compressor : Compressor only (Excluded labour, Transportation, Gas refilled or additional part)