Price

RM4,200.00

Brand
Samsung
Availability
In Stock
Quantity
Description
Highlight
670L
SpaceMax Technology
All-around Cooling Technology
Digital Inverter Technology (DIT)
1 Year General Compressor & 10 Years on Compressor Warranty by Samsung Malaysia
Price & Stock is subject to change without prior notice.
More fresh space inside, More seamless style outside
SpaceMax™ Technology
Store more food with a very spacious 630 liter* interior. Its unique SpaceMax™ technology enables the walls to be much thinner as it uses a minimal amount of high-efficiency insulation. So it creates more storage space without increasing the external dimensions or compromising energy efficiency.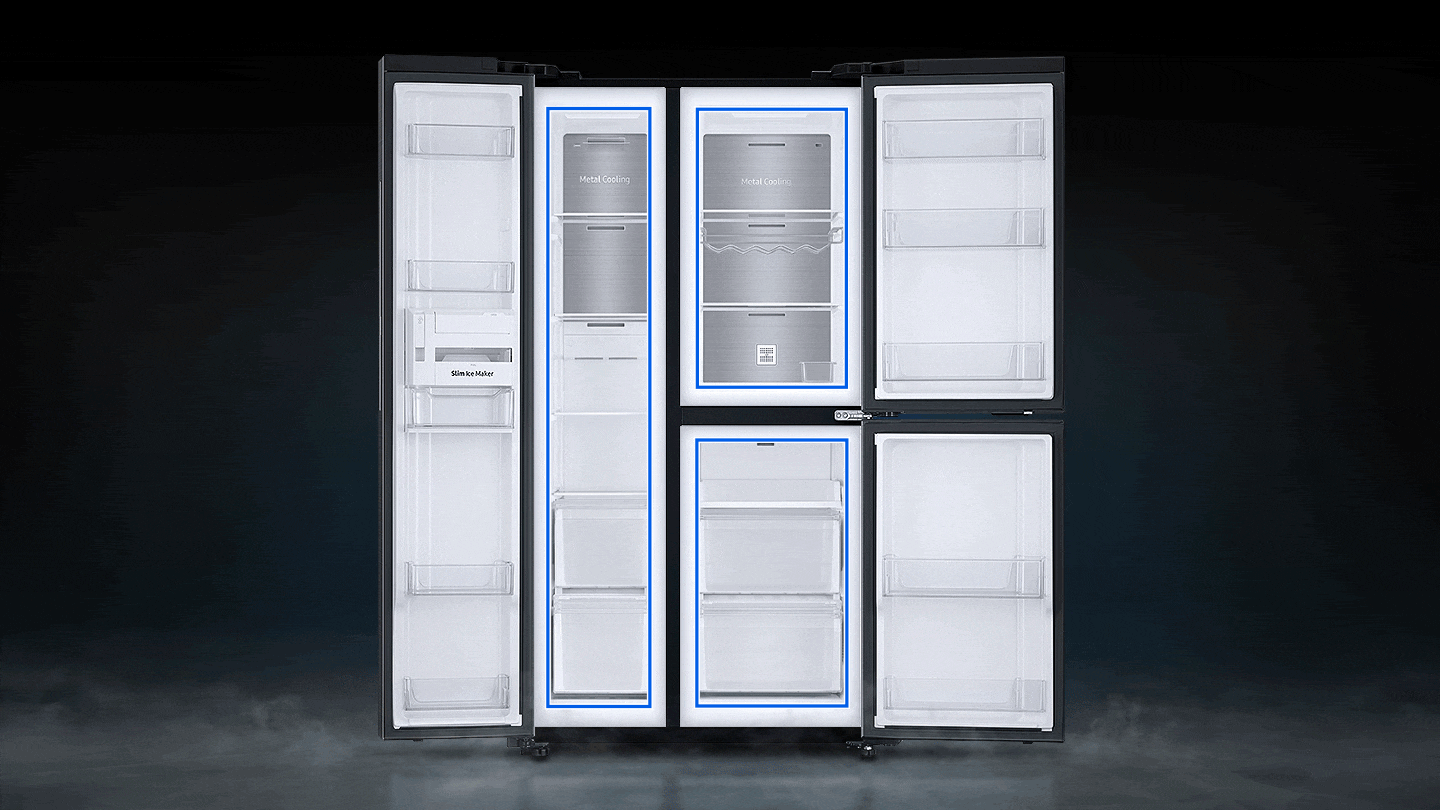 * The capacity is different for each model.
Always fresh food, wherever it is
All-around Cooling
Make sure that all your food is properly cooled – wherever it is in the fridge. An All-around Cooling system continually checks the temperature and blows out cold air. It cools the fridge evenly from corner to corner, so every item of food stays fresher for longer.
Minimize cool air loss by 55%*
3 Door SBS
Store and organize your food more efficiently for the ultimate convenience. The 3-door, side-by-side (SBS) refrigerator has two fridges and one freezer. With its upper and lower fridge, it minimizes cool air loss by 55%, so you can save energy. And everything can be kept well organized.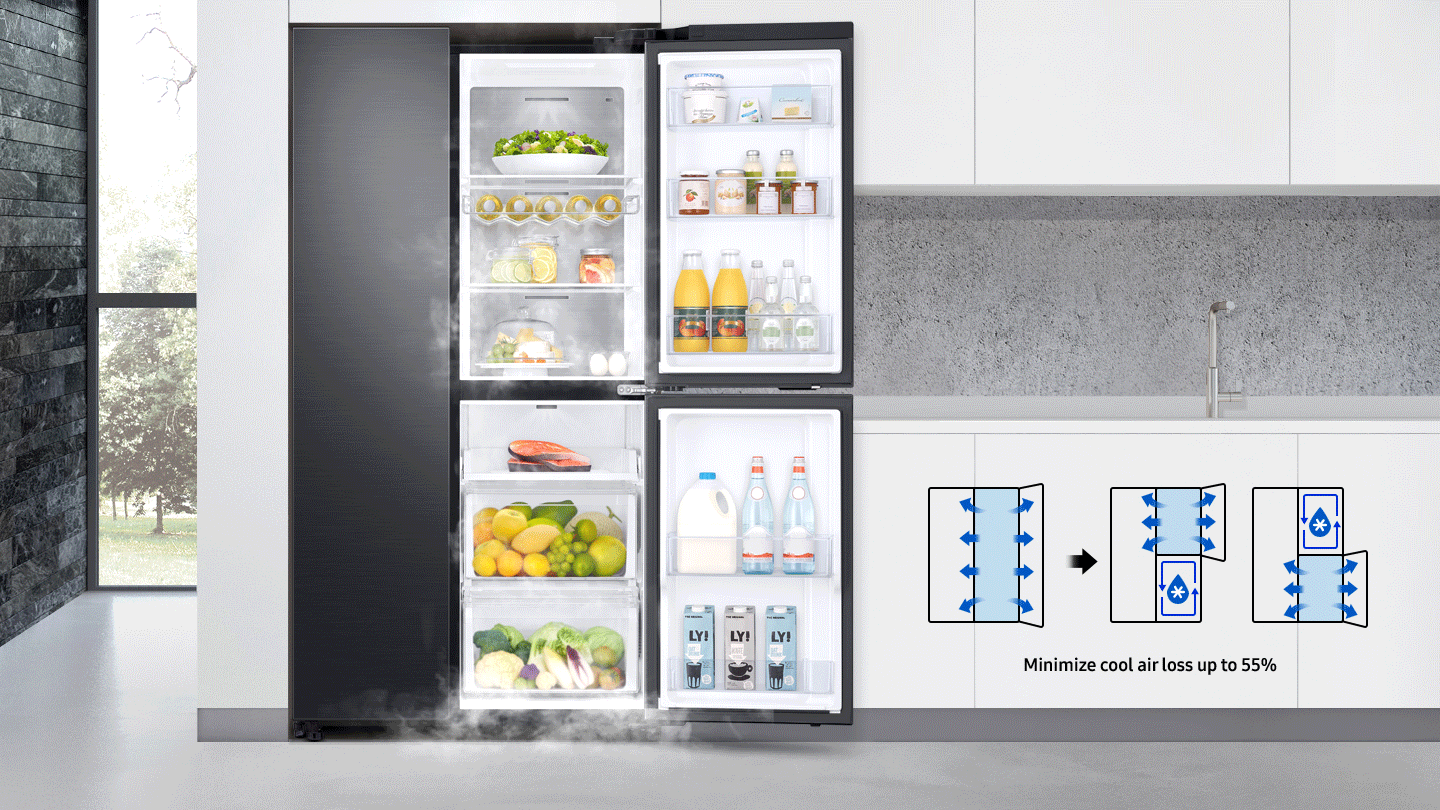 * Tested by intertek to Samsung internal test method.* The verification of reduction of cool air loss achieved through the energy consumption test, when opening the upper/lower fridge door of RS65R56*1**, RS63R55*1** compared to fridge door of RS50N35*3**, RS50N36*3**.
Perfectly harmonious and stylish design
Sleek & Seamless Design
Give your home a stylishly integrated and modern look. Its sleek and seamless counter-depth design will fit perfectly with the dimensions of your existing appliances and cabinetry to create a harmonious kitchen interior. It also has beautiful flat doors with recessed handles that don't protrude.
Fast cooling and freezing on demand
Power Cool / Power Freeze
Enjoy a rapid cooling performance. At the touch of a button, Power Cool blows intensely cold air into the fridge to quickly cool your groceries or favorite drinks. And Power Freeze delivers a fast blast of cold air into the freezer. It's great for freezing or firming up frozen food and making ice.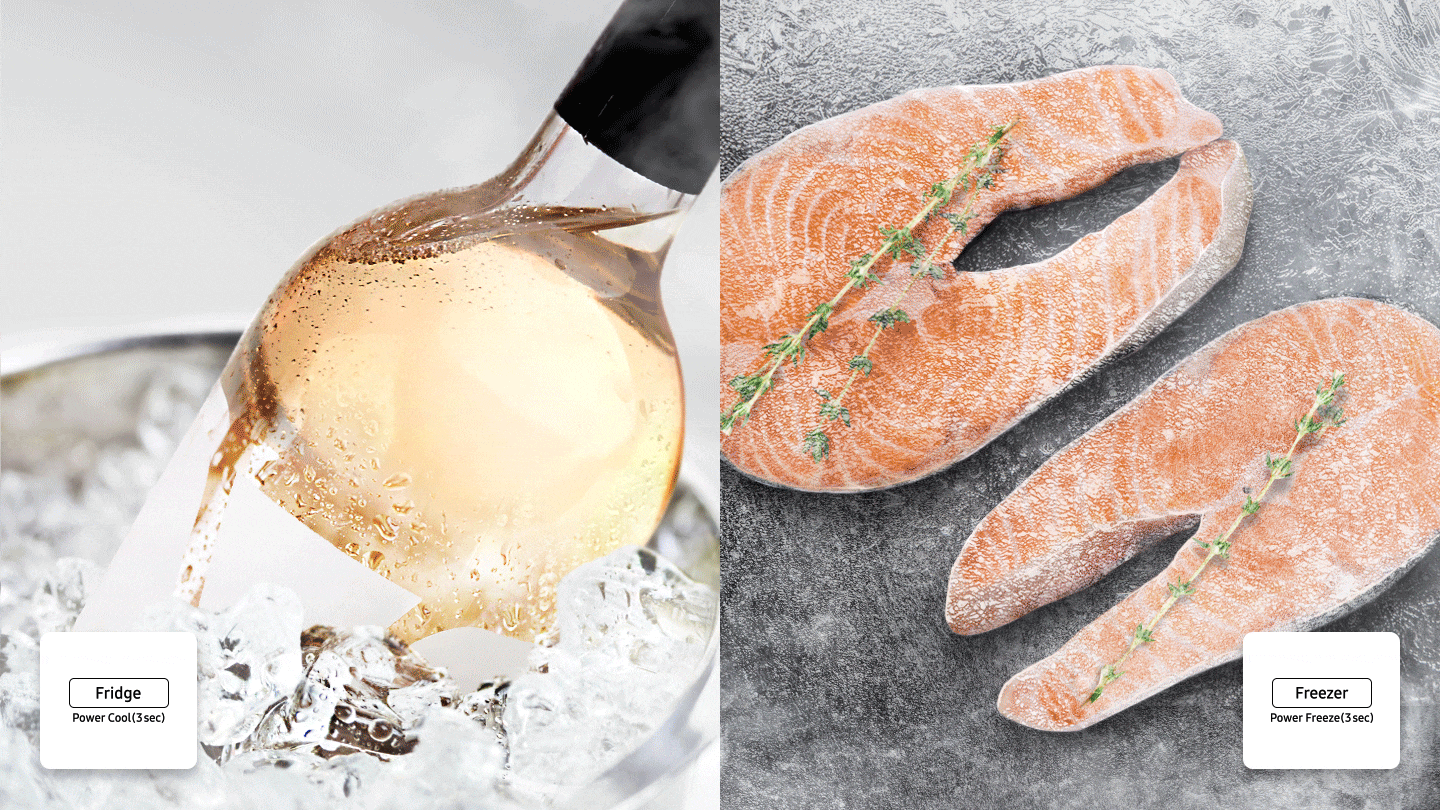 Easily find and reach food at the back
EZ Slide Shelf
Organize, put in and take out food more easily, so there's no "dead space", with the EZ Slide shelf. It is built on rolling hinges and simply slides in and out. So you can easily find and reach things at the back and in the corners without having to navigate through an obstacle course of items.
What's in the box
Weight

Net Weight (kg) : 103 kg
Packing Weight (kg) : 110 kg

Capacity

Gross Total (Liter) : 670 ℓ
Gross for Freezer(Liter) : 260 ℓ
Gross for Fridge (Liter) : 410 ℓ
Net Total (Liter) : 634 ℓ
Net for Freezer (Liter) : 229 ℓ
Net for Fridge (Liter) : 405 ℓ

Dimension( mm )

Net Width (mm) : 912 mm
Net Case Height with Hinge (mm) : 1780 mm
Net Case Height without Hinge (mm) : 1744 mm
Net Depth with Door Handle (mm) : 716 mm
Net Depth without Door Handle (mm) : 716 mm
Net Depth without Door (mm) : 610 mm
Packing Width (mm) : 974 mm
Packing Height (mm) : 1909 mm
Packing Depth (mm) : 776 mm

Cooling Feature

Power Cool Function : Yes
Power Freeze Function : Yes
Cooling Type : Mono Cooling

General Feature

Door Alarm : Yes
Refrigerant : R600a
Compressor : Digital Inverter Compressor

Refrigerator Feature

Number of Shelf (Total) : 3 EA
Number of Shelf (Silde Out) : 1 EA
Wine Rack : Yes
Number of Door Pocket : 5 EA
Egg Container (Egg Tray) : Yes
Interior LED Light : Yes
Number of Vegetable & Fruit Drawer : 2 EA

Freezer Feature

Number of Shelf (Total) : 4 EA
Number of Door Pocket : 5 EA
Icemaker : Manual Indoor I/M
Interior LED Light : Yes
Number of Drawer : 2 EA

Exterior Feature

Display Type : Internal(Ice Blue)
Door Handle : Recess
Colour : Gentle Silver Matt
Door Type : 3 door

Performance

Noise Level : 40 dBA
Climate Class : SN-T
Vacation Mode : Yes
Product Warranty Excludes the Following : Gas refill for 1 year (Gas refill for 2 years : only applicable on purchase from SDC & SBS) Plastic/glass attachments, bowels, hose, attachments such as feed valve joint, glass panel, evaporator pan, ice tray, shelves, filters valves, strainers, piping, etc. In-box accessories such as filters, flexible hose, all suction nozzle, extension pipes, etc and external parts such as casting control knobs/buttons, cables.
Scope of Warranty for Compressor : Compressor only (Excluded labour, Transportation, Gas refilled or additional part)